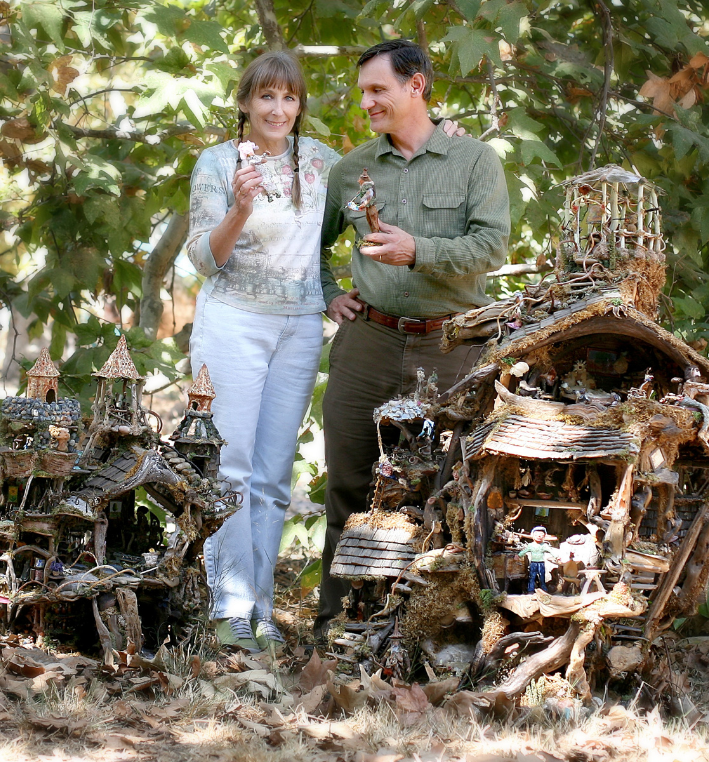 Mike and Debbie Schramer


We began creating our beautiful fairy furniture, houses and woodland characters from nature in 1987. While living on a little farm in Washington state, we developed an appreciation for the beauty of the natural world from working in our gardens and going for wonderful nature walks. We were inspired to combine nature and art together, to create an enchanting fairytale world. We discovered that our nature art became a truly magical way to express ourselves and was our most favorite art medium. As our confidence as artists grew, our pieces became more adventurous and elaborate. As time went on, we were amazed to have our pieces exhibited and sold in many shops, galleries and museums all over the U.S. and later in many other countries. Our works of art have been collected by many art connoisseurs in Europe and other parts of the world, as well. Our most exciting opportunity came about when our nature art was exhibited at the American Visionary Art Museum (AVAM) in Baltimore, Maryland in two of their year long exhibits. Our fairy house was voted as the 4th favorite work of art out of 400 creations in the exhibit. AVAM is now one of the top ten museums in the U.S.
Our fairy art has been featured in many books as well, such as "Chairmania", "Fairy Wings" and "Fairy Homes and Gardens", to name a few and in many magazines and newspapers such as "Victoria" magazine, "Country Folk Art", "Faerie Magazine" and the New York Times, Los Angeles Times and others. In 2015, we were excited to have our first book published about our nature art, called "Fairy House" followed by "Fairy Village" in 2017 and "F is for Fairy" in 2019. We are happy to receive so many wonderful reviews about our books. We are always amazed to see how people are drawn to our creations, that art from nature resonates with them. Now, we are inspired to bring our online video courses to you, so that you can enjoy creating beautiful art from nature, too. It is a marvel to see the world of nature so closely, to fashion and create a new and smaller world from its beauty and amazing color and design. We hope your adventure in creating nature art will be exciting and inspiring for you, too! We look forward to sharing with you all that we've learned in the past thirty years. We hope you have a wonderful, creative experience with nature art as you use your imagination and talents and discover many amazing ideas of your own.